What is the most powerful prayer in the world today? I was raised in a Christian family and, like many other Christians, I can't tell you how many times I recited The Lord's Prayer and countless other prayers at Church, around the meal table, and so on. But the prayer below is different. It has an amazing affect upon me every time I recite it. It affects me like no other prayer ever has.
How The Prayer Came About
Jan and I were driving to the bakery one day when Jan spontaneously spoke a beautiful prayer. I did my best to remember what she said and, later when we returned home, I wrote it down as best I could. Then I recorded what I wrote down on my iPod (I have an app called 'HT Professional Recorder' which I downloaded from the itunes app store that does the job very well) and set it to continuously play while I sat in meditation. The prayer had a profound effect on me. I felt myself going deeper into Source each time the prayer repeated. I believe that anyone seeking spiritual awakening would also benefit from repeating this prayer frequently.
A Prayer For All Who Seek Spiritual Awakening And For All Who Have Awakened
Spiritual Awakening is different for each individual but as we search the internet for the stories of those who have awakened and as we read their books, we find that for the most part they go deeper and deeper into Source over time. Going deep into Source is not something that generally happens at the moment of awakening, it is something that progresses as that which is not enlightenment is first identified and then dropped. Likewise that which is recreated ego or remnant of ego gets integrated or dropped. Those who are aware of this set aside time daily to actively do this so as to speed things up. More gets dropped daily until eventually, after months or years, the deepening is quite profound. So this prayer is particularly useful for all who seek to awaken, and all who have awakened and seek to go deeper.
At the next opportunity, with recorder at the ready, I asked Divine Mother, Source of Love, to fill us in on the prayer. This is what she gave us.
Prayer To The Source Of All Life Within And Without
I pray to the Source of All Life within and without.
Let my life be your life.
Let me see with eyes of Source.
Let my vision be the vision of Source.
Let my vision be limitless.
Let me see The Light and be The Light.
Let me be The Light Of Creation.
Let Source create through me as life lives through me, for the benefit of my self and for the benefit of all.
Let me think the thoughts of Source, creatively.
As my inspiration comes direct from Source that I be inspired and filled with enthusiasm and that my actions be for the benefit of myself and all, that I be a portal for good, for God working through me.
Let my consciousness be motivated by Love, Purest Love, for All That Is, for all of life's beautiful creations, for all life in all places.
Guide me to reside in my heart centre, in Love, that I may be Love, and be Love in Action.
And let me radiate Love for the benefit of myself and All, and share it with All That Is.
And let my voice speak the words of Source, of Life, of God, and let my words be Truth, purest Truth.
Let my words also be Love in Action, and let my words carry the energy and light and essence of Love, for all to share, for all to resonate with.
And let my words be enlightening.
Let me bring light to darkness.
Let me bring Truth where there is deception.
And let me breathe the breath of life, the breath of Source, that this breath of life bring peace and harmony and all that is life-enhancing for Earth and all life within and without.
Let my life force energy, light, and essence radiate a message of harmony with nature and with the laws of nature.
I offer my breath as a living offering to the Source of All That Is and give thanks in gratitude and appreciation and Love of All That Is.
There will be more, that is enough for one prayer.
This Video Is Spoken By Divine Mother Source Of Love
This video contains the original recording of Divine Mother Source Of Love speaking The Prayer To The Source Of All Life. While listening to her voice you can attune with Divine Mother Source Of Love. This will help you to move towards awakening, and, if you are already awakened, to deepen, to move deeper into The Source Of Love and Heart Centered Limitless Enlightenment.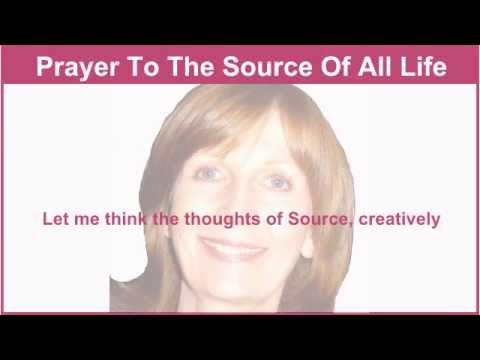 Download The Prayer
We would love for you to share this prayer. If you do so please acknowledge Jan and Wal and this website http://divinewordsofpower.com. To download or print an easy to print PDF version of this prayer, click here.